Nephrology
GOOD DIALYSIS set up with NIPRO SURDIAL DIALYSIS machine and trained technician and staff.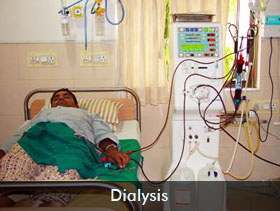 Facility for emergency dialysis and on bed dialysis in ICU for critically ill patients.
Treatment of acute as well as chronic renal failure.
Management of proteniuria, hematuria, renal hypertension and treatment of acid base disturbances, pregnancy related kidney problems, etc.
Facility for exchange transfusion especially in complicated malarias, charcoal haemoperfusion for treatment of poisoning.
Renal biopsy.
Management of post – renal transplant patients.
Services
Arthroscopy
Orthopedic Surgery
Cosmetic Surgery
Gastro Surgery
Geriatric Care