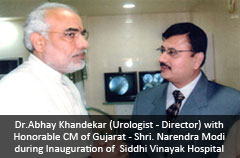 SIDDHI VINAYAK HOSPITAL
Siddhi Vinayak Hospital is a multi-speciality, super-speciality hospital located in the heart of Ahmedabad.
Established on 13th February, 2004, the hospital has since been a landmark of healthcare service in the eastern part of the city.
The hospital caters a wide array of services to its community ranging from health-check ups to the most complex of operating procedures. It provides it's services in a wide spectrum of specialities. The hospital has professional medical consultants from specialist and super-specialist fields like Urology, Nephrology, Critical care, Neurosurgery, Plastic surgery, Arthroscopy, Neonatology and Traumatology in it's wing.
Physically, the hospital is spread out on a large campus having two well-structured buildings having a total capacity to accomodate about 100 patients. The rooms available range from the most const-effective rooms to suites, which are customizable per patient demand.
The hospital is located in the prime location of Maninagar,Ahmedabad very near to Balvatika – a tourist destination besides Kankaria lake. The hospital enjoys proximity and easy access to routine modes of transport like the central S.T. bus station, local bus transport stand and the railway station which is just at 5 min walk.
Services
Neurosurgery
Arthroscopy
Orthopedic Surgery
Infectious Disease
Cosmetic Surgery
Plastic Surgery
Gastro Surgery
Geriatric Care