Facilities
CAPACITY
The hospital is spread out on a large campus having two well structured buildings having a total capacity to accommodate around 100 patients at all levels including
General Ward
A ventilated and spacious large hall with center reception area for monitoring and easy access to patients. Privacy is maintained by curtain fixtures and with basic amenities and medical equipments it is ideally suitable for cost conscious patients.
Economy Ward
Economically priced individual rooms with each bed having central oxygen lines and suction facility. Centralized nursing station for proper monitoring.
Mini-special rooms
Reasonably spaced rooms equipped with attached bathroom for each individual patient at affordable rates.
Special and deluxe Rooms
Fully equipped and well-planned with all basic amenities including attached bathrooms, TV, comfortable couch for relatives and central oxygen line for prompt treatment.
Suite Rooms
Reasonably priced, state of the art rooms with remote controlled bed and separate room for relatives and includes all facilities of the deluxe level plus added benefits include internet service, microwave ovens and presence of stewards for prompt and appropriate service.
All rooms are available with Air-Conditioning options.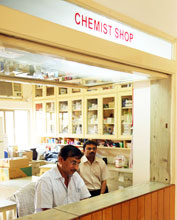 WE HAVE
24 hours Pharmacy
Cafeteria for refreshments
Parking Facility
Relatives Waiting Area at the basement and Visitors Waiting at all levels on the floor.
Conference Hall with Audio Visual Facility to conduct CME for Doctors, Learning Program for PG Students & Awareness Programs for General Public.
LOCATION
The hospital is located on approximately 1500 sq. yard area in a prime location of Maninagar very near to Balvatika – a tourist destination besides Kankaria lake. The hospital enjoys proximity and easy access to routine modes of transport like the central S.T. bus station, local bus transport stand and the railway station which is just at 5 min walk.
PROXIMITY
The hospital is very close to important arterial roads and highways of Ahmedabad which include:
National Highway No. 8 encircles the hospital – on one side from Narol to Bareja and ahead and on the other side from Narol to Naroda including CTM, Amraiwadi, Odhav, Bapunagar, etc.
Mahemdavad highway to Kheda, Nadiad and ahead.
National Expressway No. 1 from Ahmedabad to Baroda.
Odhav highway from Son- ni- chal to Kapadwanj and ahead.
132 feet ring road that encircles Ahmedabad is quite close too.
Hence it is easy for transportation of patients to the hospital.
SiddhiVinayak hospital is committed to provide state of the art facilities to the doctors, patients and relatives of the patients. Hospital has a potential to take care of all surgical and medical problems encompassing almost all branches in the medical fraternity. The hospital is being projected as the well-equipped centre to handle Traumatology and Medical emergencies including heart attacks, poly trauma, asthma, acute abdomen, etc.
All these patients are required to be treated in the "Golden hours". The first two hours of any such emergency are essential for the survival of the patient and hence decreases morbidity and mortality thus reducing the hospital stay and effectively reducing the cost of treatment for the patient. SiddhiVinayak hospital is well-equipped to provide timely treatment to such needy patients. The facilities available at our hospital are enumerated below.
OUT - PATIENT DEPARTMENT
Consulting rooms – 7 rooms for super specialist doctors with all basic amenities. A visual delight with comfortable yet luxurious interiors.
SURGICAL SET UP
Three spacious and modern operation theatres (Operation theatre complex - 3000 square feet).
First ever installation in Gujarat : Philips M-70 and S-50 overhead lights.
Operation tables : Hospitech tables with radiolucent tops. Accessories for all Orthopedic, Neurosurgical and Urological procedures.
Complete set up for Laparoscopic surgery


Three chip endovision camera for major laparoscopic surgeries.
2. Xenon light source.

High frequency Image intensifier television (IITV).
Operating microscope
State of the art Anaesthesia equipments.


Boyle's trolley with ventilators.
M4 Philips modular monitors.
E.T. CO2 attachments.


Adequately trained and appropriately qualified staff.
Well equipped recovery room (with central O2 and suction).
I.C.U. back-up for complicated cases.
State of art recording and editing devices for all surgical problems.
INTENSIVE CARE UNIT (I.C.U.)
3000 square feet of I.C.U. console
10 fully equipped and centrally monitored I.C.U. beds with special isolation room for infectious disease patients.
Qualified critical care specialists available in house 24hours.
Qualified and trained I.C.U. staff.
Special facility for on bed dialysis in I.C.U.
Emergency procedures like tracheostomy, ICP placement, arterial lines, CVP, femoral cannulas managed in ICU by expert personnel.
Latest monitoring equipments with central monitoring facilities including :


Invasive Blood pressure monitoring.
Pulmonary artery pressure monitoring.
Wedge pressure.
Non-invasive Blood pressure monitoring.
Continuous pulse oxymetry.
Advanced Drager and Siemens ventilators with all latest modes.
ICCU (INTENSIVE CARDIAC CARE UNIT )
Centrally monitored 11beds with cardiologists round the clock.
Qualified nursing staffs to handle any kind of cardiac emergencies.
Support of VENTILATORS and 2 -BIPAP with IABP ( Intra Aortic Ballon Pump).
CATH LAB – GE-INNOVA 2100 for Angiography and Angioplasty.
Services
Arthroscopy
Orthopedic Surgery
Cosmetic Surgery
Gastro Surgery
Geriatric Care